By now, you have all heard that Tiger Woods crashed his car into a fire hydrant and a tree last week. And his wife Elin apparently came out of the house to "rescue" him. Yeah, she rescued him by smashing in his rear windshield with a golf club and then pulled him out of the back window.
Me thinks not all is well in Woodsville. Where there is smoke, there is fire. Personally, I think Tiger needs to admit to his alleged affair with Rachel Uchitel. By lying about it, the story is being dragged out over a week's time frame. Alex Rodriguez admitted to using steroids. The story died. David Letterman admitted to having sex with a coworker. The story died. Tiger should take a lesson from those guys. Their PR people obviously know how this game works. And now with the 911 call, a voicemail and text messages making the news, as well as another woman who is claiming to have had an affair with Tiger, the lie will have to end.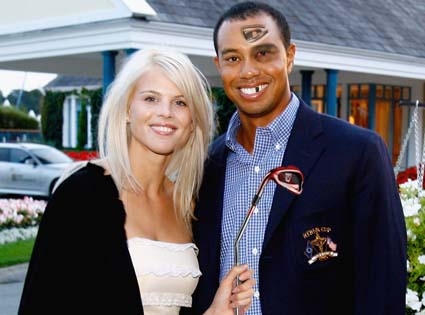 I'm still a Tiger Woods fan. Everybody makes mistakes. I can forgive. And I'm glad to see that people can joke about this news. Isn't it good to be able to laugh a little bit?
Apparently the police asked Tiger's wife how many times she hit him. She said "I don't know exactly… but put me down for a 5."
Tiger Woods is so rich that he owns lots of expensive cars. Now he has a hole-in-one.
What's the difference between a car and a golf ball? Tiger can drive a ball 400 yards……..
What were Tiger Woods and his wife doing out at 2:30 in the morning? They went clubbing.
Tiger Woods crashed into a fire hydrant and a tree. He couldn't decide between a wood and an iron.
Phil Mickelson contacted Tiger's wife to pick up some tips on how to beat Tiger!
What is the penalty for getting it in the wrong hole? Ask Tiger, he knows.
Elin's excuse? She had to play a bad lie.
We now see that tiger woods drives very well on the fairway but doesn't fare very well on the driveway.
What does Tiger have in common with a baby seal? They've both been clubbed by a Norwegian.
Whats the difference between a golf ball and a caddy? Tiger can drive a golf ball.
Tiger Woods wasn't seriously injured in the crash, but he's still below par.
What was Elin doing out at 2.30 in the morning? Clubbing.
Why did Tiger Woods crash into a fire hydrant and a tree. He couldn't decide between a wood or an iron.
It's been a tough year for tiger. 2nd time he has been beaten by a nine iron.
Nike wants to drop their endorsement, apparently Tigers balls go everywhere.
Apparently, Tiger had a 2:30 Tree Time.
Did you hear that Tiger is changing his nickname? Yeah, it's still in the cat family: Cheetah.
All of this happened because Tiger picked up another birdie.
Tiger Woods is apparently giving up pro golf. According to him, "My putting is still good, but I keep driving into the trees."
The Bitching wedge would have been another solution.