How about that Super Bowl? Was it awesome or what? The Green Bay Packers vs Pittsburgh Steelers. Two of the NFL's most storied franchises. And this year, the Super Bowl was hosted by Dallas, which just so happens to be the home of another NFL franchise, the Dallas Cowboys, aka America's Team. And everything is bigger in Texas, right? Yep. Super Bowl 45 had everything necessary for a great week and an even better game. Hell, it even ended with the Packers winning in a close game. The Lombardi Trophy is going home. It doesn't get any more fitting than that!
But, despite all those great factors, the week and the game were marred by odd happenings and events. In fact, there were so many things going wrong, it got me wondering about the 'Football Gods'. Granted, the Football Gods are mythical (or ARE they?), and they probably didn't play a role in any of the craziness this week. But something was going on. Call it fate. Call it karma. Or call it coincidence. Something was going on. Personally, I think the Football Gods were pissed about something. And the first person that came to mind was: Jerry Jones.
A lot of people in the Dallas Fort Worth area will joke about Jerry Jones selling his soul to the devil. Now, I don't know if he's some sports version of Robert Johnson, but it is something that is joked about around town and on various sports radio stations. Going along with this idea, I thought it would be interesting to point out some of the odd things that cast a shadow over Super Bowl 45. Are these things courtesy of the Football Gods? Are they really pissed at Jerry Jones? I don't know. I'll let you decide. But here are my top 5 signs that the Football Gods are pissed at Jerry Jones:
1. Snowpocalypse 2011 Ice Storm Shuts Down DFW Travel for 3 Straight Days
The ice storm that hit North Texas on Monday night was the worst winter storm I have ever seen in this area. I spoke with people who have lived here for 30+ years, and not one of them had ever seen this much ice on the ground for 3-4 straight days. It crippled traffic. Temperatures were in the teens most of the week, and in some places, the wind chill was below zero at night. Many of the NFL activities and parties that were scheduled for the week were canceled. And local businesses, who were counting on record revenue for the week, were left with profits that were probably lower than regular weeks. The sun finally came out on Friday afternoon, and that's when most people got to actually get out and go have some fun in DFW. All in all, not a total loss, but definitely a fail on a lot of levels.
2. Ice Falls Off Dallas Cowboys Stadium Roof, Injuring Several People
This one had the potential to be tragic. When the Great Thaw of 2011 began on Friday, everyone was superduper excited. Finally, we could get out and have some fun. But some people who were out and about at Cowboys Stadium in Arlington would ultimately find themselves in imminent danger.  It turns out that there was a lot of  ice on the roof of the stadium. And as it melted, it began to slide down the sloping roof, ultimately falling off the sides – falling 200 feet to the ground. And in one spot, several people were injured when the ice fell directly on them. Luckily – and I mean *luckily* – no one died from this horrible accident. But really, this was a terrible thing to have happen. And it's super creepy, like something from one of those 'Final Destination' movies. [Video link]
3. Several Hundred Stadium Seats Deemed Unsafe, Ticket Holders Turned Away
This is crazy sounding, but let me try to explain. Dallas was selected to host Super Bowl 45 about 4 years ago. Also, the Cowboys haven't had a home game in the stadium since about 50 days before the Super Bowl. So…Dallas had 4 years to plan for this thing and then 50 days to get the stadium ready. But somehow there were about 1,250 fans who showed up to the game and eventually told that their seats were unavailable. The seats were there, but they had just been set up. According to some reports, the Fire Marshall had not approved the temporary seats. The NFL said that about 400 of these fans were ultimately left without a seat or a place to watch the game. The NFL issued a statement that these 400 ticketholders would be reimbursed 3x the face value of the tickets. Bummer. I feel bad for these people. Packers fans and Steelers fans are known to be die hard, rabid fans. I can only imagine what it must have been like to be turned away at the gates. OMFG. Not LOL.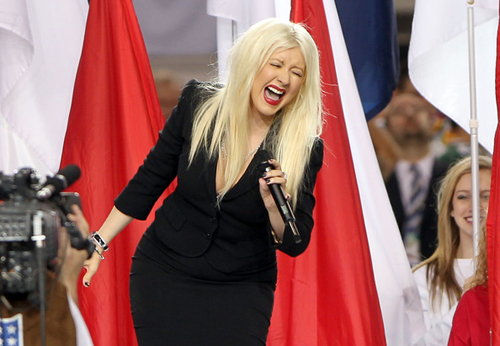 4. Christina Aguilera Forgets Words to the National Anthem
This was utterly disappointing. Best summed up here:
Instead of "O'er the ramparts we watch'd, were so gallantly streaming," Aguilera belted out, "What so proudly we watched at the twilight's last reaming." That line was a repeat of one she had sung a few seconds earlier, with the word "gleaming" being replaced by "reaming."
I actually felt really bad for her. She's got an amazing voice. But now it's another negative news headline during a time when Dallas really didn't need any more of them.
5. Jerry Goes All Out to Set Super Bowl Attendance Record, Misses by 766
The official attendance for Super Bowl 45 is 103,219. Damn, that's a lot of people! But it's short of the all-time Super Bowl attendance record of 103,985 which was set at the Rose Bowl back in 1980. Everyone know that Jerry Jones really wanted this record. To miss it by such a small margin is almost laughable, especially considering the 1,250 people who were not able to get into the stadium. So close. Wow. BTW, Super Bowl 45 isn't even the biggest game in Dallas Cowboys Stadium history. The attendance record was set back in 2009 during the stadium first ever regular season game. That official attendance was 105,121. How about that?
Honorable Mentions:
The Half-Time show with the Black Eyed Peas was pretty average at best (Yahoo! slams the half-time show)
The Taxi Cab Strike during Super Bowl week (link)
Rolling blackouts caused brief power outage at NFL headquarters hotel on Wednesday
And finally, let's just take a look at Jerry's team, the Dallas Cowboys. They went nearly a decade without winning a playoff game. And over the last  few years, they have routinely been picked by sports writers to go to the Super Bowl. Yet, each year ends with massive disappointment and failed smile.
In the end, I'm not sure if any of this was brought on by the Football Gods. But you gotta admit, something was at play here. And it wasn't just the Packers and Steelers.